The Friends' objectives are to promote and support the maintenance and enhancement of Binham Priory We are actively seeking members from within Norfolk and elsewhere in the U.K. and abroad The only requirement for membership is a love of our unique Grade 1 listed church and its glorious environs.
To join the Friends of Binham Priory, please contact the membership secretary:
Mrs Joanna King, Westgate Cottage, 80 Warham Road, Binham. Norfolk NR210DQ, email: joannaking77@yahoo.co.uk
Annual subscriptions: £10 single £20 family (2 adults + children under 18), £30 associate (PCC, schools etc.), £50 business, £100 individual life member
We look forward to welcoming you to our beautiful church which is open all day every day and in which you will find details of a "trail" to guide you through the many points of interest within
SAVE THIS DATE FOR 2017
FRIENDS OF BINHAM PRIORY ANNUAL GENERAL MEETING
Fri 7th April 2017
With a talk by renowned garden designer
Alan Gray from East Ruston Old Vicarage Gardens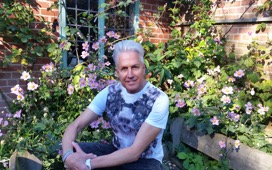 The Friends AGM will take place at 6.00 for 6.30 pm in Binham Memorial Hall followed by a talk, also open to non-members at 7.00 for 7.30.
This will be given by Norfolk garden designer Alan Gray. Alan, who is also a radio gardening expert and national horticultural columnist, designed and constructed, with his partner, the amazing gardens at East Ruston Old Vicarage, from a total wilderness area within the Norfolk Broads.
Tickets are £8 for members of The Friends and £10 for non-members. Early booking is advised as seats are limited.
For tickets contact friendsofbinhampriory@gmail.com or Mrs Joanna King, 80 Warham Road, Binhm, NR21 0DQ. Payment can be by cash, cheque or BACS.
We hope as many Friends as possible will attend the AGM, to vote in the 2017 committee members, and bring their guests for the talk afterwards. There will be a complimentary glass of wine included.
Clive Brady FOBP Chairman