Tickets (£16 per concert) are available from the end of May.
Please contact Mrs Maureen Frost, 01328 830362, davidfrost226@btinternet.com
NB: For other concerts (outside this series) please see "Forthcoming Events" page
Saturday, 22 July - 7.30
Norwich Baroque
Philipp Spätling and Jens Lohmann (recorders)
Telemann,Vivaldi,Corelli, Uccellini, Loctelli, Albicastro
We are delighted to start our new series of summer concerts with a return of this local ensemble; always a favourite with our audience.
Norwich Baroque specialises in fresh and vibrant period instrument performance of music by popular and less well known baroque composers.
The ensemble is directed by charismatic lead violinist, Jim O'Toole, whose own baroque/folk roots combine to give the group its characteristic energy and relaxed enjoyment of what they do. As a bonus, this concert will feature as soloists, two outstanding recorder players. Philipp and Jens form half of the "Ensemble Amarilli" based in Hamburg and perform "with a style which is virtuosic, agile and from the depth of the soul."
Norwich Baroque reviews:"This excellent concert gave Bach a new vigour"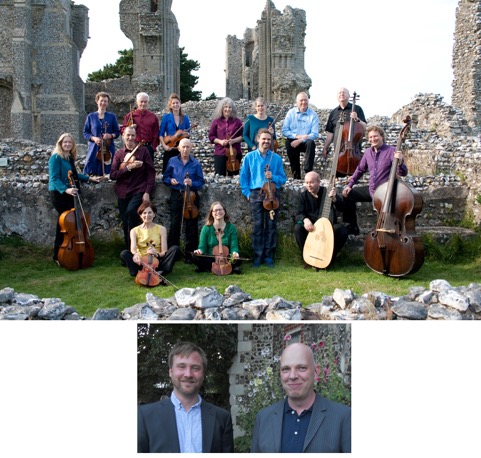 Saturday 19 August - 7.30
Xuefei Yang
classical guitar
Bach, Paganini, Xu Changjun
Villa Lobos, Jobin, Reis, Garoto
Xuefei Yang is acclaimed as one of the world's finest classical guitarists. Born in Beijing, she became the first internationally recognised Chinese guitarist on the world stage. She is now based in the UK and her international success has led her to be invited to play in more than 50 countries at numerous pretigious venues, and is frequently invited to play with the world's leading orchestras. She is one of the few guitarists whose artistry connects with audiences far beyond the guitar fraternity.
Fei has made many acclaimed recordings for major labels. A selection of CDs will be available for sale after the concert and Fei will be pleased to add her autograph.
Gramaphone magazine praised Xuefei as one of the leading innovators of her generation for continuing to build the guitar repertoire.
The UK classical music magazine, Classic FM, named her as one of the 100 top classical musicians of our time.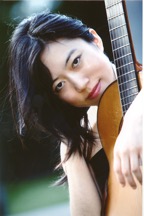 Saturday 26 August - 7.30
Lendvai String Trio
Nadia Wijzenbeek, violin, Ylvali Zilliacus, viola, Marie Macleod, cello.
Röntgen, Schubert, Bach
Founded in 2004 the Lendvai String Trio is celebrating its 12th season performing regularly at major festivals and venues throughout Europe such as Wigmor Hall and Concerrebouw. The trio has recorded extensively to great acclaim, including the complete string trios of Beethoven and Martinů. Their concertys and recordings are broadcast by Dutch Radio 4, Swedish Radio P2 and BBC Radio 3..
In 2011 the trio was awarded the prestigious Kersjes Ensemble Prize in Holland.
Alongside the trio, Nadia is concertmaster of the Dutch Radio Philharmonic Orchestra, Ylvali is gurst principal at the Royal Swedish Opera and Marie solo cellist of the Royal Stockholm Philharmonic Orchestra.
"---The Lendvai Trio has a deep well of energy---this was persuasive playing, technically of the highest order"
The Strad, 2007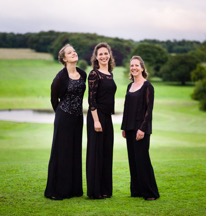 Saturday 9 September - 7.30
Britten Oboe Quartet
Nicholas Daniel, oboe, cor anglais
Jacqueline Shave, violin
Clare Finnimore, viola
Caroline Dearnley. cello

Mozart, Schubert, Moeran, Lennox Berkeley, Françaix
Nicolas Daniel founded the Britten Oboe Quartet together with his colleagues and co-principals of the award-winning Britten Sinfonia; they all bring to this ensemble not only the highest musical standards but also the experience of playing together over many years, resulting in warm, expressive and above all enjoyable playing. They aim to bring music of the highest quality to audiences and to explore lesser-known works as well as standard classics such as Mozart's oboe quartet.
The quartet has been heard throughout the UK and their debut recording will be released on the Harmonia Mundi label in 2017.
""Nicholas Daniel---the 2011 winner of the Queen's Medal for Music is arguably Britain's most virtuosic and adventurous instrumentalist and as mesmering a talent now as he was when he won the BBC Young Musician of the Year competition" "
The Times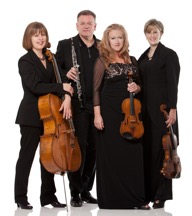 Saturday 16 September - 7.30
Bergamasca by Candlelight!
Katriina Boosey, recorders
Frances Eustace, baroque bassoon, viol, dulcian
Lynda Sayce, lute, theorbo, baroque guitar, viol, baroque flute

"When the Angell comes down" - splendid sounds from 16th to 18th century Europe
Bergamasca present a fascinating evening of Baroque music. The programme showcases rarely heard Masque Dances and Divisions, beautiful French Suites and virtuosic works from the Italian masters Castello and Vivaldi. The players' friendly and informative verbal introductions provide audiences with a wealth of knowledge about their beautiful, handcrafted instruments and the history behind them. Hearing Bergamasca play the sumptious music of 17th and 18th centuries takes you back to the splendour of the Baroque and leaves you feeling inspired.
Following the popularity of last year's candlelit lute recital, this concert will also be presented using the magic of candlelight befitting the period of the music.
"The concert was superb! Bergamasca play an amazing range of instruments---three virtuosi in harmony – remarkable!"