BINHAM PRIORY EVENTS 2022
Binham Christmas Fair 2022
Binham Village Hall
proceeds to Binham Priory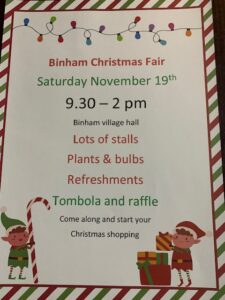 Summer/Autumn Concert series
Saturday, 23 July at 7.30pm
NORWICH BAROQUE
Directed by Jim O'Toole
Philipp Spätling, Jens Lohmann (recorders)
"REBELS AND REVERENDS"
Victoria, Rebel, Mudge, Biber, Spätling, Erskine/Cann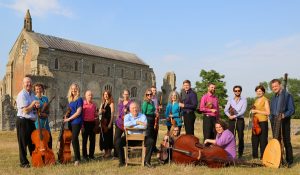 An all time favourite with Binham audiences, Norwich Baroque returns to start our new season. A particular component of their concerts is to include special guests and this concert features the celebrated recorder players Philipp Spätling and Jens Lohmann who have also composed one of the programme items.
This concert honours the memory of Douglas Losh-Atkinson, an honorary friend of Norwich Baroque and creator of a 5-year composition competition; this year's winning entry will be included in the programme. www.norwichbaroque.co.uk
Tickets (£20) available at end of May from Maureen Frost, 01328 830362, davidfrost226@btinternet.com
Tuesday, 16 August at 7.30pm
CIVITAS ENSEMBLE
Steve Bingham, violin
Jane Carwardine, violin
Brenda Stewart, viola
Jane Fenton, cello
"IMAGES"
Purcell, Dvorak, Finzi, Britten, Pärt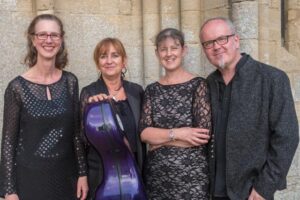 The Civitas Ensemble returns to Binham to bring another original performance utilizing the unique architectural space and involving the local community. The group is formed from outstanding professional musicians from this country's leading chamber groups.
"IMAGES" is an audio/visual experience which includes the projection of video and slides to accompany some of the music which will include string quartets and folk music arrangements. There will be choral works, poetry readings and displays of local artworks.Jane Carwardine, who devised this programme, has been acclaimed by the City of London Sinfonia for her previous concert designs.
Tickets (£20) available at end of May from Maureen Frost, 01328 830362, davidfrost226@btinternet.com
Friday, 2 September at 7.30pm
Jonathan Sage, clarinet
Keats String Quartet
Laurie Dempsey, Charlotte Fairbairn, violins
Heather Bourne, viola
Elisheba Stevens, cello
Weber, Mendelssohn, Coleridge Taylor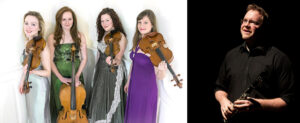 A great programme chosen by these talented players including Weber's "Introduction, Theme and Variations, Op 32" which showcases the virtuosity of the clarinettist and a clarinet quintet by Samuel Coleridge Taylor, an American composer whose music is currently going through a renaissance.
Jonathan Sage has given recitals throughout Europe and as a concerto soloist has appeared with several orchestras including the London Mozart Players and the Dartington Festival Orchestra. The Keats Quartet performs in concerts and other events nationwide and have given recitals at the Norwich Chamber Music Festival, Peterborough Cathedral, Glastonbury Abbey and Wells Cathedral.
www.jonathansage.co.uk and www.keatsquartet.com
Tickets (£20) available at end of May from Maureen Frost, 01328 830362, davidfrost226@btinternet.com
Saturday, 10 September at 7.30pm
Andrew Maginley, baroque lute
"Sturm unt Klang", Lute Music from the Court of Bayreuth – by candlelight
Falckenhagen, Hagen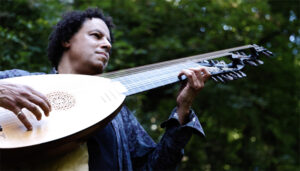 We end our season with another atmospheric evening by candlelight, so suitable for the intimate playing of the lute. Rarely heard today, the baroque-lute with twenty-four strings offers a lush, full and pleasing sound.
Adam Falckenhagen (1697-1754) was part of the last generation of German lutenists centered around Bach in Leipzig. Berhard Hagen (1720-1787) developed a progressive musical style which combines nostalgic effects with swift, shocking and tempestuous turns of melody.
Andrew is engaged internationally in concert and early opera as a soloist and continuo player in concert halls and opera houses worldwide, playing with some of the world's leading ensembles and orchestras that specialise in early music. His recent recordings have been highly praised by Gramophone magazine.
Tickets (£20) available at end of May from Maureen Frost, 01328 830362, davidfrost226@btinternet.com