Binham Priory Concerts 2019 and August afternoon teas
AFTERNOON TEA IN BINHAM PRIORY
Friday afternoons during AUGUST.
2.30-4.30pm
Each August the afternoon tea is provided by volunteers in the Church every Friday afternoon during August. Tempting home made cakes, scones and biscuits will be awaiting your visit.
Why not come and have a walk around the Priory ruins and church and stop for tea and cakes.
We would suggest a donation of £2.50 for adults and £1.50 for children, all proceeds help towards the upkeep of the Church.
We look forward to welcoming you for a visit and some refreshments.
BINHAM PRIORY CONCERTS 2019
Saturday, 3 August, 7.30pm
Norwich Baroque

Directed by Jim O'Toole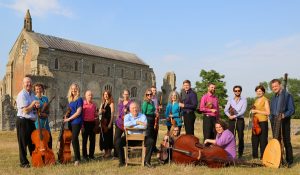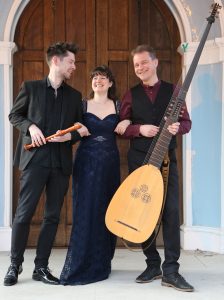 © Paul Hurst
Sarahjane Stephen (soprano)
Arngeir Hauksson (lute)
David Price, recorder
Albinoni, Vivaldi, Handel, Bach, Robert de Viseé
It has become something of a tradition to start our series of concerts with the ever popular Norwich Baroque.
We are always delighted by their expertise and choice of programme and their chosen soloists are always a bonus.
The programme this year includes arias for soprano by Bach, Handel and Vivaldi, concertos for lute and for recorder by Vivaldi, "Pieces de Theorbe" by Robert de Viseé, and music for strings by Handel and Albinoni.
"This excellent concert gave Bach a new vigour" Eastern Daily Press (Norwich Cathedral Concert 2015).
Saturday 24 August, 7.30pm
Jonathan Sage, clarinet
Eleanor Kornas, piano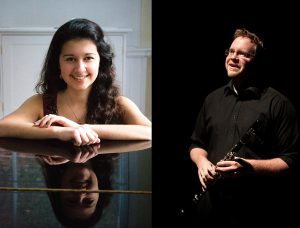 Brahms, Vaughan Williams, Milhaud, Burgmüller, German, William Lloyd-Webber, Weber
Jonathan delighted our audience last year when he appeared with the Keats Quartet.
He returns with the talented pianist Eleanor Kornas to present a programme which includes some of the mainstays of the clarinet repertoire as well as music of equal quality by English composers.
Jonathan Sage has given recitals throughout Europe and as a concerto soloist has appeared with several orchestras including the London Mozart Players and the Dartington Festival Orchestra. As an orchestral musician, he has performed with the London Mozart Players, New Mozart Orchestra and the British Philharmonic Concert Orchestra.
Eleanor Kornas's professional engagements include appearances at the Royal Festival Hall, duo performances at the Wigmore Hall, Purcell Room, Royal Albert Hall's Elgar Room and St James, Piccadily as well as soloist in Grieg's Piano Concerto with Derbyshire Sinfonia.
Saturday, 31 August, 7.30pm
Civitas Ensemble
Steve Bingham, violin
Jane Carwardine, violin
Brenda Stewart, viola
Jane Fenton, cello
Bach, Haydn, Beethoven, Part, Glass, Macmillan
The Civitas Ensemble is an exciting new group formed from outstanding professional musicians from this country's leading chamber groups who seek to create original performances in special architectural buildings to utilise their unique space and also involve the community to which they belong. Jane Carwardine, who has devised this programme titled "A Time to Pause", has been acclaimed by the City of London Sinfonia for her previous concert designs. In addition to the instrumental works, two choral works by Byrd and Ola Gjeilo will be performed, along with readings by Yeats, Sassoon, and Idris Davies. There will be a short meditation and some local artwork on display.
The performance will be in different parts of the priory to make use of the wonderful acoustic in an immersive way.
Friday, 6 September, 7.30pm
Heath Quartet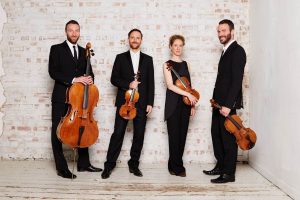 © Simon Way
Oliver Heath, violin
Sara Wolstenholme, violin
Gary Pomeroy, viola
Christopher Murray, cello
Beethoven, Ravel
A most welcome return to Binham Priory from this internationally award winning string quartet.
The charismatic and sought-after Heath Quartet won the 2016 Gramophone Chamber Award fot their recording of the complete string quartets of Sir Michael Tippett, and in May 2013 became the first ensemble in fifteen years to win the prestigious Royal Philharmonic Society's Young Artists Award.
Notable performances of previous seasons have included the world premiere of a John Tavener piece at the BBC Proms, concerts at the Beethovenfest, Bonn and their debuts at the Musée d'Orsay and Louvre Auditorium in Paris.
" The music's potency and bravura were conveyed with thrilling conviction --" The Guardian
Saturday, 21 September, 7.30pm
Xuefei Yang, classical guitar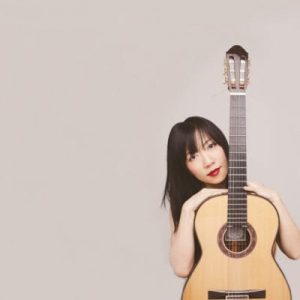 © Neil Muir
Dowland, Sanz, J S Bach,
Liu & Mao, Wang Jian Zhong, Qu Wei, Chen Yi, Xu Chan Jun, Chinese Traditional
Xuefei Yang is acclaimed as one of the world's finest classical guitarists and really needs no introduction to Binham audiences.
Gramophone Magazine praised Xuefei as one of the leading innovators of her generation for continuing to build the guitar repertoire. Testament to this is her choice of programme for this concert titled Of cord and cassia-wood. "Of cord and cassia-wood is the lute compounded; within it lie ancient melodies", so begins The Old Lute from Britten's Songs from the Chinese. Plucked instruments, such as the lute, are found across geographies and time, and have a rich and varied repertoire.
Join Xuefei in exploring this repertoire: ancient music from the Orient, lute music from the English Renaissance and baroque guitar music from Spain and Germany.
To add to the wonderful ambience of the Priory, this concert will be performed by candlelight.
Binham Priory Concerts Booking Form 2019 details here/
Friends of Binham Priory forthcoming events.... details here
Binham Local History Group...details here