BINHAM PRIORY EVENTS 2021-2022
BINHAM PRIORY CONCERTS
BINHAM PRIORY PASSION 2022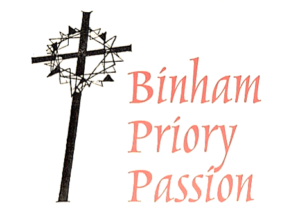 Two years ago, it was suggested that we should try to emulate the villagers of Oberammergau in staging the second Binham Passion Play just before Easter, ten years after the first in 2011. This had been such a success on so many levels with full audiences. Covid prevented staging it this year, but we would like to try for 2022.
The proposed dates for the Dress Rehearsal and Three Performances are:
Monday11th to Thursday 14th April 2022, Binham Priory Church, 6.30pm to about 8pm.
We have the key elements of the production team, particularly a very experienced Director. Now, we hope many of you will take part as actors of all ages, (you will not have to learn many lines), and/or support staff for costumes, make-up, scenery, props, lighting, ushers, car-parking and general help. In 2011 more than 50 young people and adults were involved.
If you do see this in time to come to a meeting on Friday 1st October at 6.30pm in the Priory Church you will hear much more about the production. We'd love to see you and will offer a welcome glass of wine or fruit juice. To gauge the numbers likely to come please ring 01328 830362 or email davidfrost226@btinternet.com.
If you are not able to make it, but want to be involved, or simply know more before making up your mind, also please contact David Frost as above. You don't have to live in Binham to take part.
We're sure you will enjoy being involved in Binham Priory Passion 2022