Binham Priory guided tours
There is a Guided Tour of Binham Priory and its monastic precincts every Sunday and Tuesday afternoon starting at 3.00pm. These tours last for about an hour and run throughout the summer months from May to September. Booking ahead is not necessary. Many visitors find the interpretation panels very informative but if you like to ask questions or want the latest news about this building then do come along and join one of our tours.
Group tours can be arranged at mutually convenient times by contacting Maureen Frost on 01328 830362. A donation of £2 per person will help us to maintain this magnificent priory church.
Binham Priory Events
Binham Priory hosts a wide range of music, arts and social events and activities
Rector's Message
Isaiah 40. 28 – 31
Hast thou not known?  hast thou not heard, that the everlasting God, the LORD, the Creator of the ends of the earth, fainteth not, neither is weary?  there is no searching of his understanding.
He giveth power to the faint; and to them that have no might he increaseth strength.
Even the youths shall faint and be weary, and the young men shall utterly fall:
But they that wait upon the Lord shall renew their strength; they shall mount up with wings as eagles; they shall run, and not be weary; and they shall walk, and not faint.
**********
Dear Friends and Parishioners,
The late John Richardson, writer and collector, wrote in his autobiography 'At Home' –
'I enjoyed the Blitz; it brought out good nature in even the nastiest people'.  The terrible time so many have endured and the appalling consequences, will mark us all for a very long time, and for those who have lost those they love, for their lifetime.
There has though been a great outbreak of kindness and of gratitude.  All our parishes have responded practically and thoughtfully.  Mr. Ian and The Rev'd. Canon Fiona Newton have made possible on screen services of Divine Worship.  For many people years of practice in care, prayer, the exercise of duty and the determination to keep things going have proved their worth.  These remain the living foundations for building a better tomorrow.
People take comfort and find inspiration in a great many things.  Some we all share,  some we do not.  I love wind and rain and being on top of a hill!  But I also love a walk around my own garden in warm sunshine after a shower.  I like the smell of wet sheep and a wet dog outside; and beeswax and woodsmoke inside.  Reversing the two would be very unpleasant.
All over the world people have faced a great reversal.  But there is One who never changes. ' ….They that wait upon the Lord shall renew their strength; they shall mount up with wings as eagles; they shall run, and not be weary; they shall walk, and not faint.'
Yours most truly,
Ian Whittle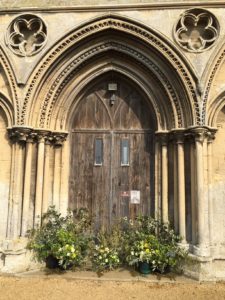 Collections during the Coronavirus pandemic
Dear Friends, Parishioners and Readers,
Collections taken at services are an important source of funds for the Churches in our Benefice, and the closure of the Churches due to the Corona virus pandemic means that in 2020 these funds are likely to be massively reduced.
If you were willing to consider setting up a Standing Order (SO) on your bank account in favour of your local PCC, any such donations would help to offset the lost service collections.   For example, if 10 parishioners each set up a SO for £5 pcm, this would amount annually to £600, plus a further £150 if Gift Aid were consented to and claimed on these donations.
Your local PCC Treasurer can supply your PCC's bank details and a Gift Aid Declaration form.  You would of course be able to terminate the SO whenever you so wish.
If you would like to help, please get in touch with the relevant person for your parish:
Bale – Mr. Martin Moore – martinrmoore@live.co.uk
Binham – Mr. Neil MacArthur – nmacarth@gmail.com
Field Dalling – Louise Shone – lou_shone@hotmail.com
Gunthorpe – Mrs. Penny Brough – davidbrough@hotmail.com
Langham – Mrs. Ann Sherriff – 01328 830605     candasherriff@hotmail.com
Morston – Mrs. Anne Rolfe – 01263 741125     annerolfe45@gmail.com
Saxlingham – Mrs. Liz Peart – elizabethpeart@btconnect.com
Sharrington – Mr. Martyn Sloman – martynsloman@me.com
Stiffkey – Mrs. Heather Harrison – heatherjh16@gmail.com
Thank you
Forthcoming Service Times – February
| | | | | |
| --- | --- | --- | --- | --- |
| 2nd | Sunday | Candlemas | 11.00am | Holy Communion |
| 4th | Tuesday | | 3.30pm | Evening Prayer |
| 9th | Sunday | The Fourth Sunday before Lent | 11.00am | Holy Communion |
| 11th | Tuesday | | 3.30pm | Evening Prayer |
| 16th | Sunday | The Third Sunday before Lent | 11.00am | Family Service |
| 18th | Tuesday | | 3.30pm | Evening Prayer |
| 23rd | Sunday | The Sunday next before Lent | 9.30am | Holy Communion |
March
1st March
Sunday
The First Sunday of Lent
11.00am
Holy Communion
3rd March
Tuesday
3.30pm
Evening Prayer
8th March
Sunday
The Second Sunday of Lent
11.00am
Holy Communion
10th March
Tuesday
3.30pm
Evening Prayer
15th March
Sunday
The Third Sunday of Lent
11.00am
Family Service
17th March
Tuesday
3.30pm
Evening Prayer
22nd March
Sunday
The Fourth Sunday of Lent
Mothering Sunday
9.30am
Mothering Sunday Service
24th March
Tuesday
3.30pm
Evening Prayer
29th March
Sunday
The Fifth Sunday of Lent
10.30am
HC
Group Service at Bale