See also: The Rood Screen Paintings,  Rood Screen by Michael Begley
John Thirtle (1777-1839) did a painting of the inside of the priory with the rood screen standing in its original position. It will be seen immediately, that while the rood beam is still present, the rood loft has been removed. The Screen is of three bays each side.

The Cotman painting (in colour) seems remarkably similar, apart from the human interest angle. The lower parts of the aisle windows are boarded up in the Cotman painting, but only the right one in the Thirtle. In both pictures however, it is interesting to note that there is a low wall (stone coloured rather than wood) in the central arch; there are also small pieces of tracery protruding from the both sides, part of which may still be seen on the left hand side. It is probable therefore that the easterly bays of the north aisle were separated from the main body of the church - probably as a Lady Chapel.
And what is the drapery in both pictures on the south screen?
When the North Aisle was demolished and the arches filled in, the Rood Screen was taken down. The Rood beam and the screen tracery were destroyed, and the dado (the lower painted panels) were put on one side while the work was undertaken. Of the six bays of the screen only four and a panel remain, and these have moved about the church ever since, as can be seen from the pictures below.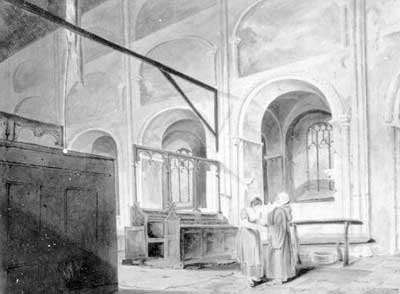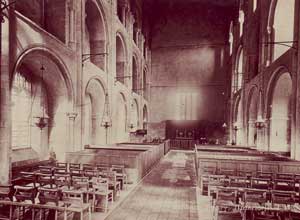 The rood screen here is just outside the altar rails, being used as a front for choir stalls.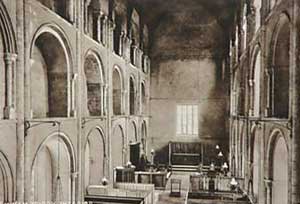 Here the rood screen is placed just behind the pulpit as a mini-screen to separate the choir stalls from the nave.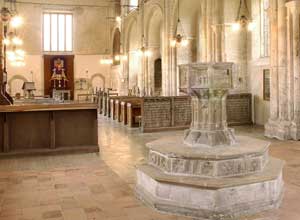 Today, the screen has been moved to the back of the pews, and four bays remain.
The rood loft (see article by Michael Begley) was accessed from the stair which was set into the eastern pillar of the third bay on the south side of the church. The stair leads to a doorway on the triforium above. The loft was attached to the top of the screen, and was quite a substantial structure, because it had a variety of uses. Candles and hanging lamps were placed before the rood itself (the statue of the crucified Christ, with Mary and John standing on each side), and these had to be maintained. The rood was also veiled during lent, requiring a series of pulleys to lift the veil into position. Choirs sang from the rood loft, and on the few occasions that the parish priest would preach a sermon, he would do so from the loft. In great churches there might well be an organ installed on the loft, so that the choir and choirmaster could be near each other, and cooperate more fully in the production of music for the services.