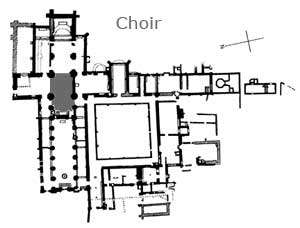 The monks' day was punctuated by prayer. Other than private prayer and meditation, their obligations were twofold: (1) The celebrating (for priests) and the attending of mass, (2) the recitation of the daily offices, known as the Hours of Prayer or Canonical Hours, which comprised Mattins and Lauds (reckoned as a single hour), Prime, Terce, Sext, None, Vespers and Compline. (See the Benedictine Monk's Way of Life for details).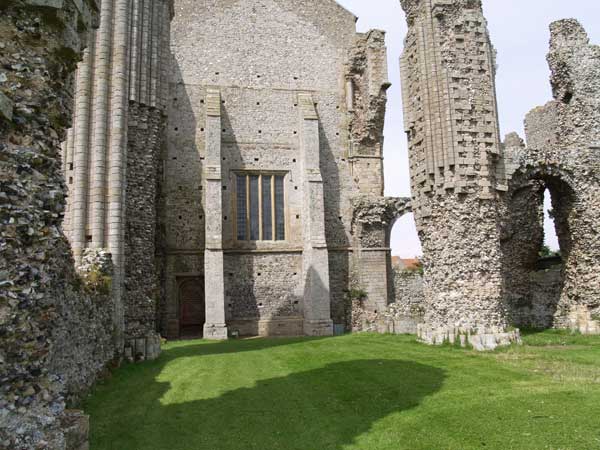 These two obligations were undertaken at different places in the priory. Mass was said at the different altars throughout the building, and in many cases, special intentions were made for those who had died and left money for a mass to be said for their souls, so that through this intercession before God, their time in Purgatory might be lessened. There were two altars in the south transept, and at least one in the north transept; there were two altars in the south aisle of the presbytery, one in the north aisle and one in the Lady Chapel to the north of the Presbytery. High Mass would be celebrated at the High Altar.
The Offices however were said in the Choir (or Quire). At the crossing, under the central tower, stalls were built for the monks, with desks in front to hold their books. The general design of these stalls is common to all Monasteries and Catherals, the difference only being their size due to the number of people they were intended to accommodate. Durham with 50 monks obviously had to have a substantial structure, but Binham with only 8 and the prior, needed a much smaller arrangement.
The prior would sit in a stall facing the high altar, and the monks would take up position facing each other in the side stalls. The stalls would have misericords (latin = mercy); these were flat seats, which were on a pivot, so that they could be put up when monks stood for the recitation of the psalms. Underneath the seat was a triangular piece of wood, so that while they were standing they could rest their bottoms on it and relieve their legs. This was especially important for aged and infirm.
It became the custom to carve these additions to the underside of the seat, and the resulting art form has been cherished ever since. The richer the institution, the more lavish the stalls and carvings. In Binham the two stalls which remain in the parish church from the priory, have the same stylised head carved on them, the whole of which are illustrated in the tour of the church. It may however be useful to look at some misericords from elsewhere to give an impression of the variety that can be seen.

Binham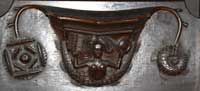 Cartmel Priory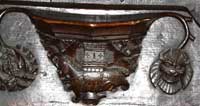 Cartmel Priory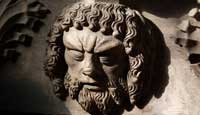 Salle, Norfolk
Lancaster Priory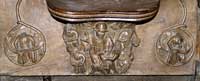 Norwich Cathedral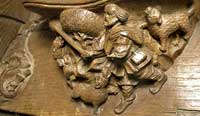 Norwich Cathedral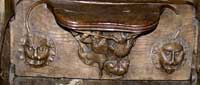 Norwich Cathedral