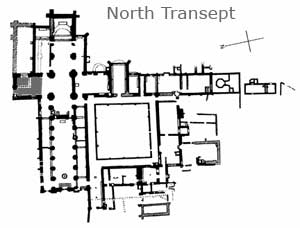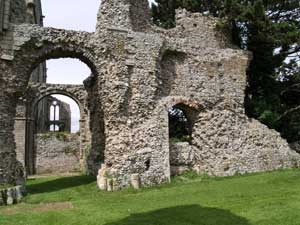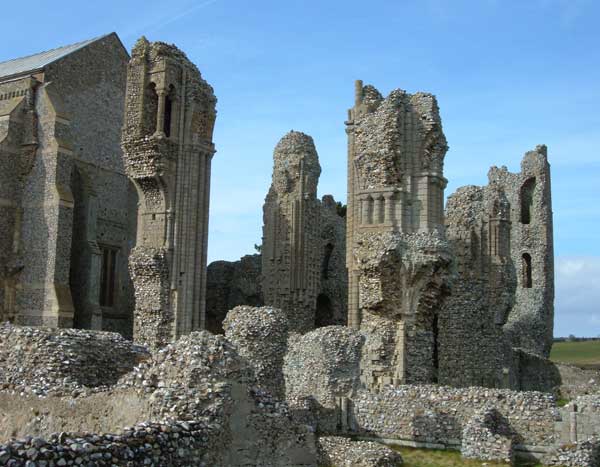 (Left) North aisle and transept: (above) Transepts from East end of the Chapter House
The North Transept has been subject to many changes over the years, and as can be seen from the pictures above there are chambers to the West (unlike the South Transept which abuts the cloister). The North wall contains remnants of the original romanesque building before the Presbytery and Transepts were reconstructed when the original windows were blocked in and replaced by a new large window above them.
These new windows were accessed by a spiral staircase North Transept romanesque remainsin the North West corner of the transept which leads to passageways which surrounded the whole transept. The South Transept also has a spiral staircase (in the South West corner), so that although there is far less of the structure standing, we can presume that it was of a similar design to the North Transept. N Transept altar
To the East in the N Transept there is an altar, with original floor tiles still in position. These Flemish glazed tiles are worn, but there are still traces of a dark green and yellow decoration in a chequerboard design dating from the 14th - 15th century.
It is uncertain what the rooms to the west of the Transept were used for. In Durham Priory (now the Cathedral) another Benedictine foundation, two servants whose duty it was to keep the church clean, lock up at night and help the Sacrist in his duties, slept in a room at the end of the North Aisle. However they were used, what is certain is that someone tried to build a small 'house' here after the dissolution. Part of the North wall has been cut away to make a chimney and in backing the hearth glazed tiles from the floor have been re-used; to the right of the hearth a small bread oven has been constructed. There is a strange hole in the ground to the south of this, which embodies some fine stonework - it has the appearance of a lavatory!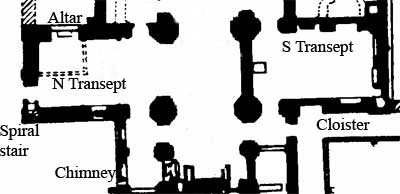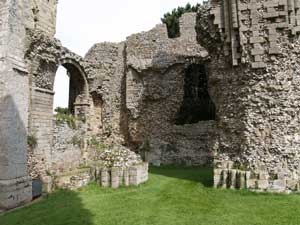 Transept chimney from the Cloisters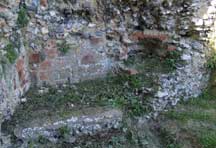 The new hearth